About GEMS
Girls & Guys Exercising Mindful Solutions (GEMS) was founded by Whitley English. A survivor of domestic violence, and mistreated at the hands of an unjust legal system when she sought protection, Whitley realized that her community lacked capacity to provide help, support, or advocacy for women in similar situations. She has worked as a peer support specialist, and is also a community health worker, concentrating on direct services for women at-risk or victims of violence and abuse.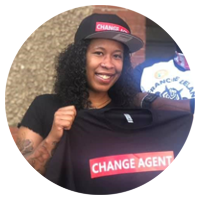 Whitley D. English
Whitley sits on the Board of Directors for Just Economics. She is a North Carolina Community Health Worker, Peer Support Specialist, and Recovery Coach trained in trauma awareness & resilience skills. She holds First and Second Degree Reiki Practitioner Certification, is trained in Foundations of Motivational Interviewing, and is a Level 1 Certified Sound Healer.
Listen to a Solutions for the Underaffiliated podcast featuring an interview with Whitley, Domestic Violence: One Woman's Familiar Story with the Justice System (4/13/2023).
"We talked to a victim of domestic abuse about how her experience with the justice system led her to healing and help for others. We need to change the system, not continue to blame victims and leave them to heal themselves alone." - Eric J. Carrig
Watch the following 2-part interview, Domestic Violence Up Close: Whitley's Story, with The Asheville View's Kahlani Jackson where Whitley recounts her experience and reflects on how it's changed her.
Domestic Violence Up Close: Whitley's Story: Part 1
Domestic Violence Up Close: Whitley's Story: Part 2